With english subtitles

"Y" is a feature film that describes a ruined balcan territory that is gradually repopulated by refugees who return to it from an exile of war. The two protagonists, a man who lives in a cardboard box and a woman who only owns an old van, simply sleep during all of the movie. Almost all we see is their dreams, terrible nightmares that revisit their affective and family constellations, destroyed by war. In the course of the film, the respective dreams are gradually merging and end up confronting each dreamer in the tragic re-enactment of a military rape.
The film is a kind of empathic speculation, through dreamlike distance, about the psychic alienation that produces war, both in victims and in aggressors. "Y" revolves around the description of a rape understood as a weapon of war, a fact that often implies a genocidal dimension in which the aggressor inoculates his "genetic memory" in the womb of the enemy.
"Y" es un largometraje que describe un territorio balcánico en ruinas que poco a poco es repoblado por refugiados que regresan de un exilio de guerra. Los dos protagonistas, un hombre que vive en una caja de cartón y una mujer que solo posee una camioneta vieja, simplemente duermen durante toda la película. Casi todo lo que vemos son sus sueños, terribles pesadillas que revisitan sus constelaciones afectivas y familiares, destruidas por la guerra. En el transcurso de la película, los respectivos sueños se van fusionando gradualmente y terminan enfrentando a cada soñador con la trágica recreación de una violación militar.
El film es una especulación empática, a través de la distancia onírica, sobre la alienación psíquica que produce la guerra, tanto en las víctimas como en los agresores. "Y" gira en torno a la descripción de la violación entendida como arma de guerra, hecho que muchas veces implica una dimensión genocida en la que el agresor inocula su "memoria genética" en el vientre del enemigo.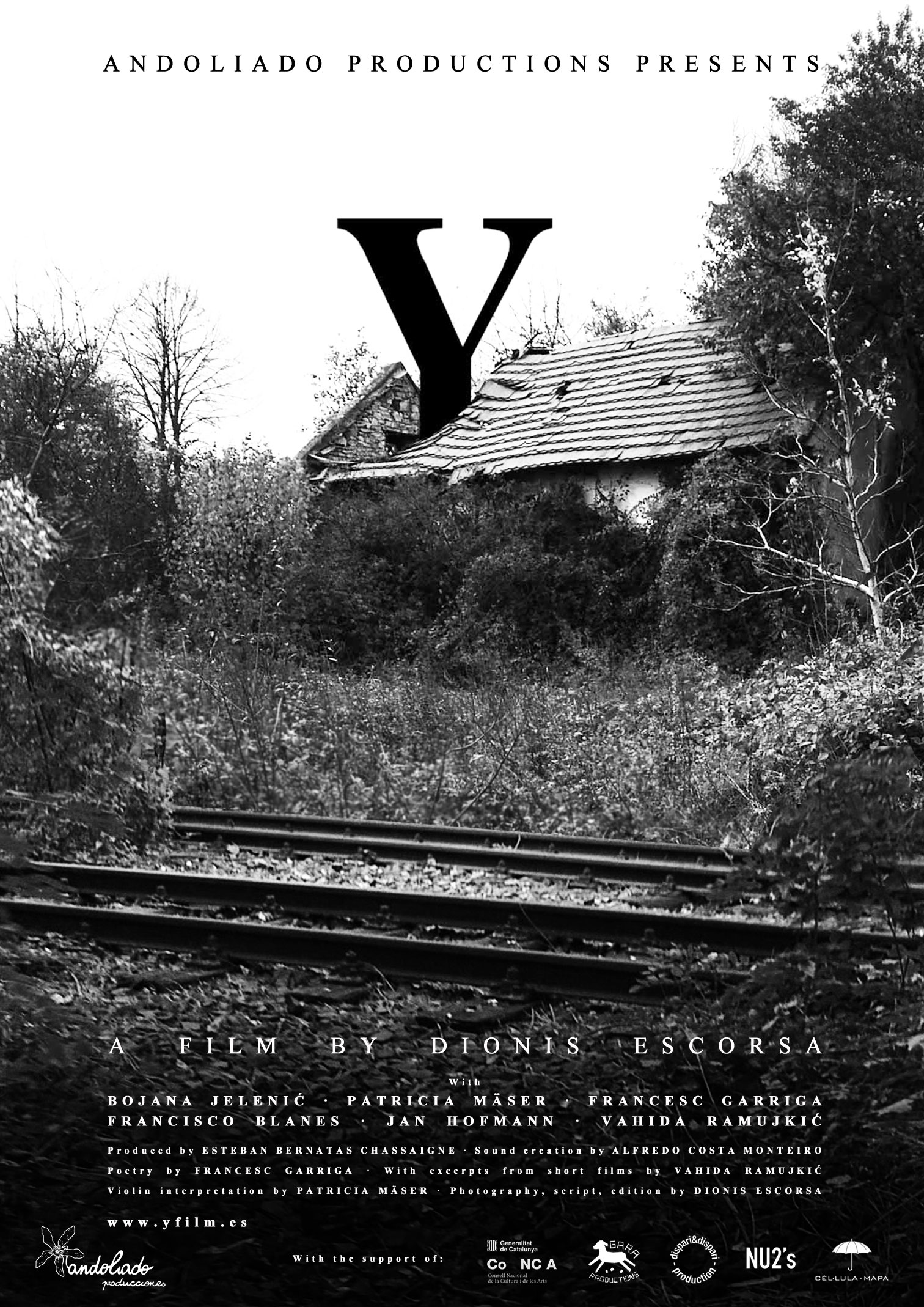 A film by Dionis Escorsa
Direction, script, camera, edition: Dionis Escorsa
With: Bojana Jelenic, Patricia Maeser, Fran Blanes, Jan Hofmann, Francesc Garriga, Vahida Ramujkic
Sound creation: Alfredo Costa Monteiro
Postproduction: Esteban Bernatas / Andoliado Productions
2012 · 96 min
Texts:
Arto Ushan: Interview in occasion of the exhibition Zdrak i Vrag (The Air and the Devil) at the KCB in Belgrade, Serbia. 2019. English.
Manuel Quinto: Y, Un film personal y libre. Crítica del largometraje de ficción Y. 2013. Castellano.
Somni i memòria dels balcans. Presentació del llargmetratge de ficció Y amb motiu de la seva estrena al festival Xcèntric. CCCB. Barcelona. 2013. Català.
Dossier of the feature film Y. 2012. English.
Dossier del largometraje de ficción Y. 2012. Castellano.
Articulo para la revista de pensamiento y cultura El Ciervo. Cómo hacer una película sin dinero. 2012. Castellano.


Screenings:

Xcèntric film festival · CCCB Barcelona
Kino der Kunst · Arri Kinos · Munich
Picknic Film Festival · Santander
CineMad film festival · Cines Berlanga · Madrid
Flux festival video d'autor · Centre d'art Santa Monica · Barcelona
IBAFF · Filmoteca · Murcia
El Ojo Cojo · Filmoteca, Madrid / Cinemes Boliche, Barcelona

Exhibitions:

"Zrak i Vrag" · Curated by Arto Ushan · KCB · Belgrade
"Turbulencias" · Curated by Nimfa Bisbe · Caixaforum Barcelona
"Reset" · Curated by Valentin Roma · Galeria Palmadotze · Vilafranca del Penedés
"Remote Conflicts - Interchangeable Scenes" · Curated by Arto Ushan · Neu West Berlin · Berlin

Adquired by the Caixaforum Collection · Barcelona

Best feature fiction film at
El Ojo Cojo Film Festival · Madrid / Barcelona
Nominated to the best opera prima · IBAFF · Murcia